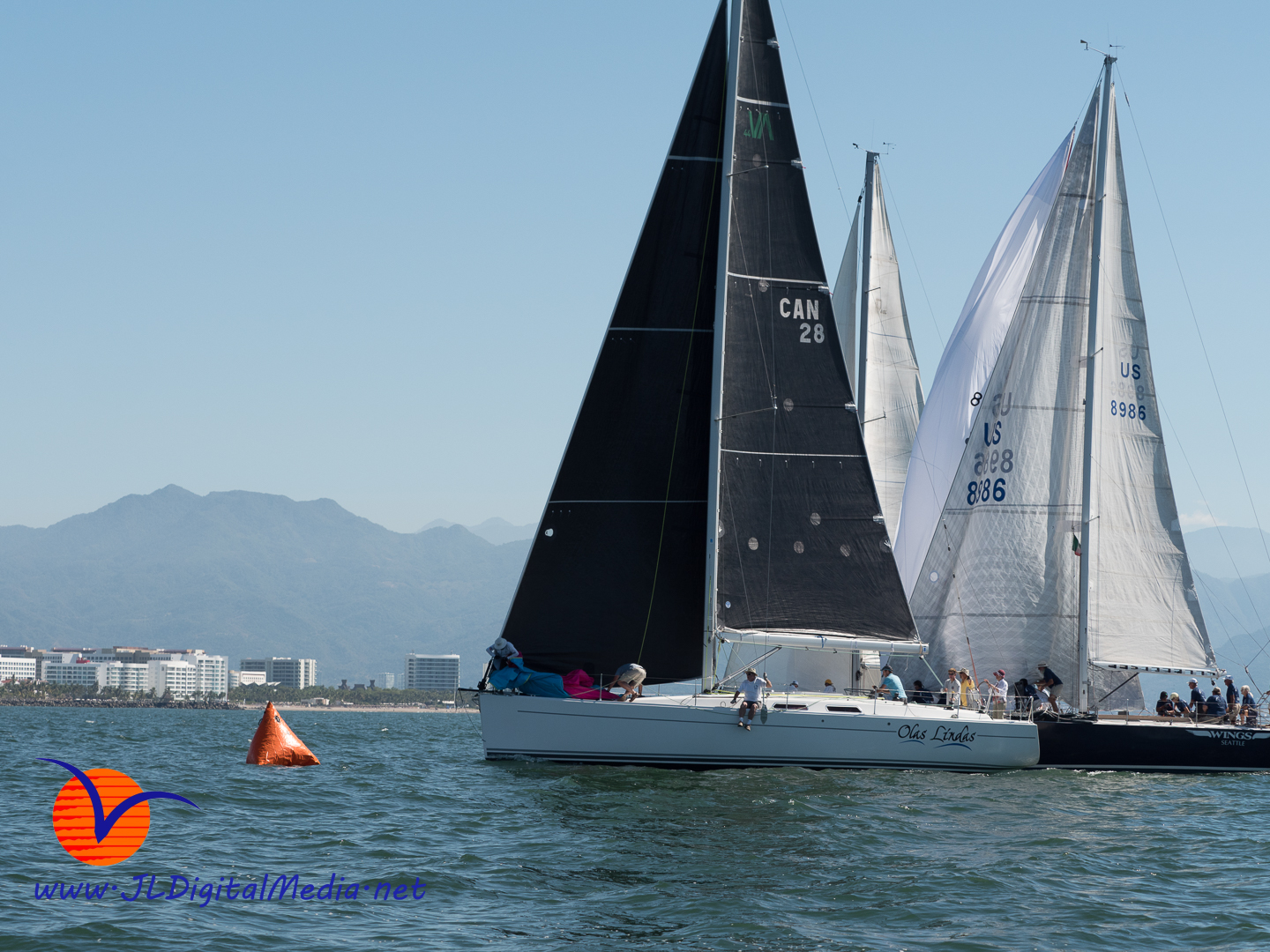 Olas Lindas leads the pack to La Cruz
The third race in the Vallarta Cup Series started in the clear skies and light winds that we have come to expect in Banderas Bay during January. Nine competitors came to the starting area. New addition Bart Goodell in his Santa Cruz 27 'Vitesse' joined favorites Olas Lindas, Wings, Bright Star and Rush Faville's 'Shiva'.
The race committee called a multi-lap windward/leeward course, including a weather mark approximately 2.5 miles from the start, a reach mark, and a leeward mark near the starting line. Racing started around 12:40 after technical issues on committee boat S/V Cadenza caused an interruption and subsequent restart in 8kts of wind from the southwest.
Initial racing in Class A was extremely close, with Olas Lindas, Bright Star and Wings dropping spinnakers and rounding the leeward mark within feet of each other. Olas Lindas was first around the mark and used her lighter weight to accelerate upwind well ahead of Wings and Bright Star on their second trip to the weather mark. Kinta Ane struggled with her spinnaker take-down, wrapping the sail on her headstay, forcing the boat to head off-course for several minutes to sort it out. Showing a true competitive spirit, Merle, Allison and their crew of kid-naturalists headed right back into the race after their mishap, anxious to continue with racing, and whale watching.
While winds built mid-race to over 10 knots, pressure at the end of the race reduced considerably. The race committee called for a shortened course for Class B boats (Shiva, Vitesse, Harmatan and Poco Loco Dos), finishing them after a single lap of the windward/leeward course. Class A continued for a second lap, with Olas Lindas first over the finish line by 9 minutes, followed by Wings, Bright Star, Alarife and Kinta Ane. After handicap corrections, a mere 15 seconds separated Wings and Olas Lindas, with Wings narrowly getting the bullet for the second week in a row.
In Class B, Shiva continued her string of first place finishes, followed by Vitesse, Harnitan and Poco Loco Dos.
Beautiful Banderas Bay didn't disappoint in showing off her wildlife on Saturday. Kinta Ane reported 24 whale sightings, bringing her total whale sightings for the event to over 40. The mark crew on Nanacita also reported a close encounter, with two whales surfacing just a few yards from their boat at the weather mark. Even the race committee was treated with a show of a whale in the middle of the starting line.
Also of note during the Saturday event: For his hurculean efforts in setting and retrieving marks for the Vallarta Cup, new VYC member Jim Corsini was officially made of member of the VYC Brotherhood of International Mark Boat Operators (BIMBO). Jim was awarded his official VYC BIMBO shirt, and told to go out and set more marks. Congratulations Jim!
Saturday, January 14 will be the next in this four-race series. Boats can sign up for any or all races in the Vallarta Cup Series. Sign-up is here.
Event photographer John Pounder has made his photos available for viewing online, and for purchase in higher resolution. Those photos are available here.