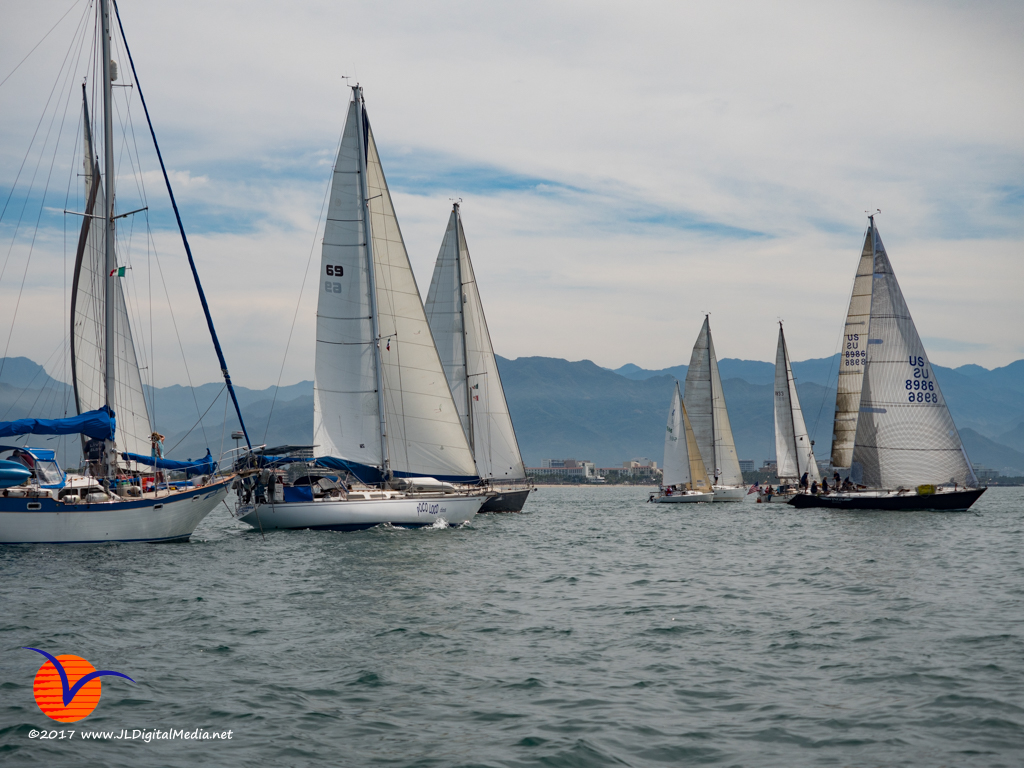 Olas Lindas leads the pack to La Cruz
The second race in Vallarta Cup 2017 gave competitors a full tour of the bay, with the race committee on S/V Cadenza calling for a course that took the fleet from a start in Nuevo Vallarta, 2 miles offshore, then to La Cruz, back again all the way to Puerto Vallarta, then back to Nuevo Vallarta for the finish. The fleet started in a light 6 knot wind, anticipating a northerly to develop later in the afternoon to help them finish the 19 mile course. With overcast skies, the breezes didn't fill in from the north as expected, and competitors raised their spinnakers for an off wind reach to the La Cruz turning mark.
Series leader Olas Lindas led the fleet around the La Cruz mark, reaching to Puerto Vallarta a breeze that seemed to refuse to fill in. Consistent leader Wings struggled with the La Cruz mark rounding, touching the buoy, requiring not only a penalty 360 turn, but also a successful rounding of the mark, causing the yacht to lose several minutes.
Class B leader Shiva gave all boats a run for their money, again maintaining speed with the leaders throughout the course.
During the last hour of the race, winds turned southerly and built, giving all competitors a great off wind reach to the finish. Olas Lindas continued to lead the pack throughout the race, but faltered at the last weather mark, unsuccessfully attempting a spinnaker peel at the final turning mark, and losing several minutes before her turn down to the line.
In the final result, Olas Lindas led Wings by a full 7 minutes, but lost to Wings in corrected time. In Class B, Shiva consolidated her lead in Class B with another bullet.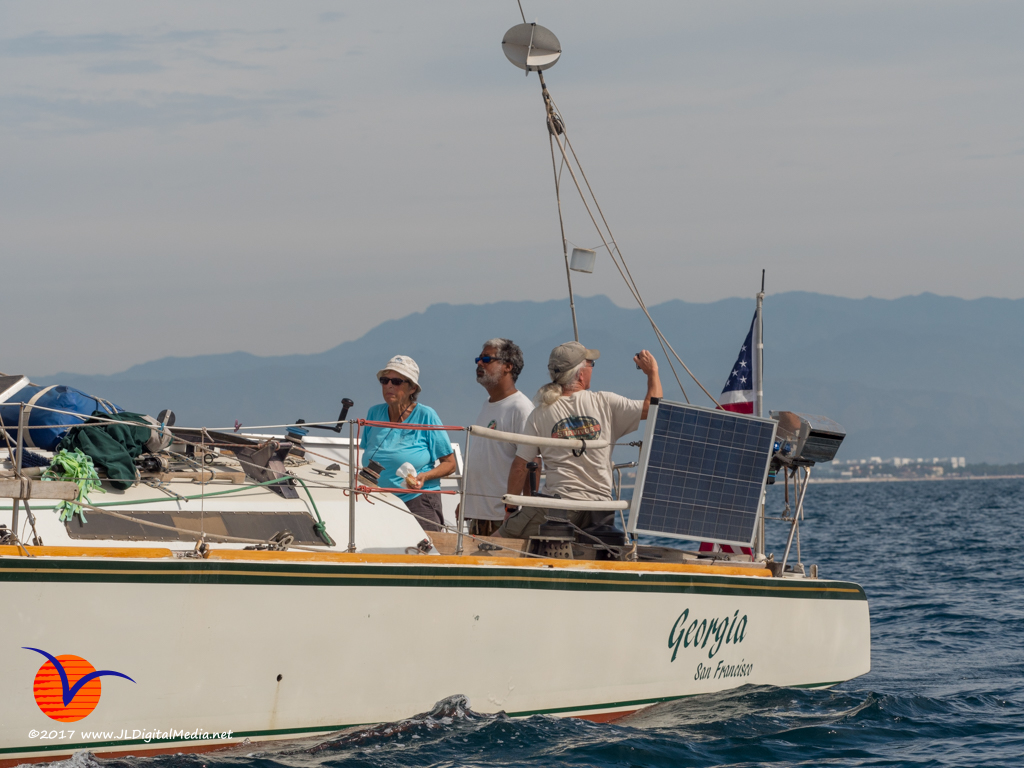 Our junior naturalists aboard Kinda Anae didn't disappoint: 9 whales were spotted during the race, as well as several dolphins and even a turtle!
New competitors this week were new VYC member Dan Kelsey's "Harmattan" and past participant Ben Mewes' "Georgia". As Georgia finished, Ben and his crew were treated to a trumpet rendition of Georgia on My Mind by S/V Cadenza owner Jay.
Saturday, January 21 will be the next in this four-race series, capped off by our traditional "Cheeseburgers in Paradise" after-race party at the VYC clubhouse. Boats can sign up for any or all races in the Vallarta Cup Series. Sign-up is here.
Event photographer John Pounder has made his photos available for viewing online, and for purchase in higher resolution. Those photos are available here.