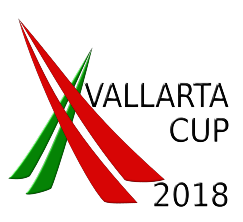 VYC kicks off the racing season with the Vallarta Cup. This series, which has been held every year since 2005, runs four Saturdays in January. Each day of racing is capped with a great party at Vallarta Yacht Club! This year we'll kick the first race off on January 6, finishing four races on January 27.
NEW - Vallarta Cup Sailing Instructions
NEW - Vallarta Cup Sailing Instructions Addendum 1
NEW - Vallarta Cup Sailing Instructions Addendum 2
NEW - Vallarta Cup Radio Skippers Meeting for January 20, 2018 (Includes CLASS BREAKS)
NEW - Race Results
Please use the form below to enter your boat for Vallarta Cup 2018. You can pay your fees using Paypal, or choose "Offline Payment" to pay in person at Vallarta Yacht Club. If you have sailed with VYC in the last 3 years we probably have the information we need to handicap your boat. If you have changed something or need a first-time handicap please complete the handicap request form here.
Vallarta Cup is the traditional kickoff of the racing season in Banderas Bay. It is held 4 Saturdays in January, with a single race during the day and an evening party at the Vallarta Yacht Club clubhouse the evening of each race day. Everyone is welcome, from cruisers to performance boats. All boats will be rated using the VYC Handicapping System.
When: Saturdays, Jan. 6, 13, 20, 27th
Why: Fun on the water, meet new & old friends, after the race Please come to the Club for results, beer, burgers and live music
How: Registration Form & Race Instructions available at www.vallartayachtclub.org. Registration forms and entry fees can be dropped off at VYC in Nuevo.
Entry fees: 800 pesos (or 200 pesos per race)
Sailors need to register 2 days ahead for local rating.
Listen to morning Cruiser Net VHF Ch. 22 8:30 for further information.
Starts: There will be a start for each class or staggered start times may be used, were each boat will have a start time based on their BBR handicap. Start times will be announce at the Roll Call 30 minutes before the first start. First Class or boat starts at 12:35 pm
Classes: Cruising, Performance Cruising and Multi-hull Classes
Courses: Start/finish line in front of Marina entrance. They will be distance races of 10 to 20 miles. To be selected based on the wind.
Contacts: Race Chairperson: Andy Barrow (This email address is being protected from spambots. You need JavaScript enabled to view it.)
Handicapping: Banderas Bay Handicap Committee
Sponsors: Paradise Village Marina, Marina Riveria Nayarit and Vallarta Yacht Club
The Cruiser/Race Class will appeal to owners of cruising-oriented boats that are not competitive for current PHRF racing, but whose owners and crews would like to test their skills with other similar, displacement-oriented boats.
Rule 52 against power winches is waved.
WARNING: This is a great time to test your boat and crew before sailing South or South Pacific
Event Properties
Event Date
06-Jan-2018
Event End Date
27-Jan-2018
Registration Start Date
01-Sep-2017
Registered
12

[View List]

Cut off date
27-Jan-2018
Location
Vallarta Yacht Club