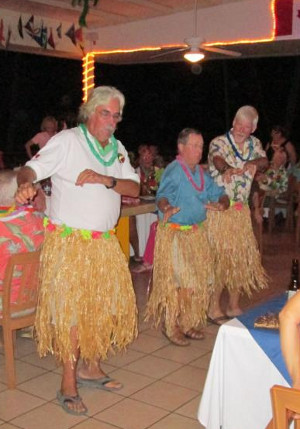 Last night I was honored to emcee the awards presentation for the 2013 Vallarta Cup racing series. The Vallarta Cup is one of VYC's oldest yacht racing traditions, second only to Banderas Bay Regatta. Now in it's seventh year, the Vallarta Cup has always been a great way to show folks the wonderful sailing destination that is Banderas Bay.
This year, Rear Commodore Randy Hough's vision was to not only provide great sail racing every weekend in January, but also to have a great party at the club after each event. Everyone would be invited - racers and non-racers alike.
Randy turned to the ever-creative Ricki Williams - one of the best party planners I have ever seen. From Cheeseburgers in Paradise to Saturday Sliders, Ricki and her team put on some amazing parties. You could see the success in the smiles from the people who attended each Saturday night. Who would've thought I could be convinced to wear a hula skirt?
My sincere thanks to everyone who was involved in the Vallarta Cup and our Saturday night parties, including our hard-working staff, many of whom put in 12-14 hour days on Saturdays to inflate and set racing marks offshore, prep the club for the evening parties, retrieve the racing marks, cook and serve for 100 people, clean up, and, well, you get the picture.
A week ago member Bob O'Hara loaned us a DVD of a club event held in 2005 called "The Banderas Bay Queen 2005". This tongue-in-cheek "rockumentary" described the hunt for the Queen of Banderas Bay, and featured a "crowning" event hosted by one of our founding members, the late Jim Ketler. It has been uploaded to YouTube, and I encourage you to watch it below.
The video is very entertaining, and it reminds me why I came to Banderas Bay 5 years ago. I'm sure those who came 10, 15 or 20 years ago would feel the same way. At the end of his presentation on the video, Jim said something that stuck with me:
"If it ain't fun, don't do it!"
Thanks for the reminder, Jim. Thanks also to everyone who made the Vallarta Cup a success, and thanks to those who are working on the next party, and the next, and the next. Because of you, we are certainly able to follow Jim Ketler's advice so many years ago.
Andy