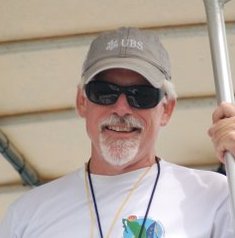 When we think about the organization that we are part of, what is the first thing that comes to our minds? The organization? The people in the organization? What we do? The building?
At the end of the day, clubs are about people. Making money is only important in terms of ensuring that the organization remains financially capable enough to ensure that we can put a roof over our collective heads, pay the people who work for us, and do the things that we can only do as a club, not individually.
Many of us enjoy the idea that we are part of something bigger than ourselves. We like the idea that when we tell someone we are a member of the Vallarta Yacht Club, there is a smile of recognition, and perhaps even a little envy. We also enjoy the idea that we have a place "where everybody knows your name". People rarely join clubs to be anonymous, that's just not the point!
In the past few years, our club has undergone a transition. In addition to the excitement, or perhaps comfort, of walking in and seeing a group of your friends sitting at the bar, we are also increasingly using our club for large events where entertainers stand on a stage and food is delivered to the table on plates printed with the club logo. We like those events because they expose us to those "bigger than ourselves" moments. They also provide an opportunity to help top up the club coffers, keeping our dues low.
Some long for the days when the marina was filled with cruisers, pausing for a few months on their way to some other exotic location. Those people gave us energy, their stories filled us with excitement and reminded us that we have that spark of adventure still.
While we still have a lot of cruisers joining us each season, the days of us being the only viable cruisers stop in Banderas Bay are over. Many of the people who came here on cruising boats have moved to condos, their boats gone or perhaps used on the occasional weekend. Many of those cruising folks who gave us so much energy have moved to La Cruz where their kids run the docks and they can get together for the occasional outdoor movie or pot-luck dinner, just like so many here did not so many years ago. How long has it been since we got together for a movie in the club? Why haven't we?
The other thing that happened is that the world of sail racing discovered Banderas Bay. I met a race official recently who said, "Are you aware that you live in one of the top 10 racing venues in the world?" As a matter of fact, I was aware, but I wasn't sure that others also knew it. Large events like the Pan Am Games or the J/24 World Championships saw Banderas Bay as the place they wanted to race, and when they looked around for a club to host them, they saw only VYC as viable. When these events come, many of our members truly enjoy helping out, again being part of something bigger than themselves.
So we change and grow, and with that growth comes the inevitable pain. In business, I underwent quite a number of organizational changes, and even administered a few myself. We used to have a rule of thumb for changes in general: One third loved the change, one third didn't care either way, and one third hated the change. It didn't really matter what the change was, the rule always seemed to apply.
That's understandable. Change involves risk, learning new things, and perhaps losing things that you were used to. Some people love that sort of thing – it's exciting. Others, not so much.
Unfortunately, change, and the pain, is often inevitable. This is especially true when the change is external – when outside events force us to change. We do what we can to listen to those friends in the most pain and do what we can to ease that pain, but we can't stop the change. It will happen with, or without us.
So where do we go from here? Are we to be dragged into the future, kicking and screaming in resistance? Or are we strong enough to resist the growing pains and plot our own course as things change, and perhaps make our own future?
I leave that up to you.
Andy