The charity Families at the Dump had a goal - find a way to give 400 kids a Christmas gift this season. With the help of 283 donated gifts from the VYC members and friends, each child had a gift and a big smile to celebrate the day.
The moms and kids dressed in their very finest clothes for this special Kings Day party on January 6, traditional gift-giving day in Mexico. After waiting quietly and patiently for up to 1 hour in line, each one came through to receive their personalized welcome packet.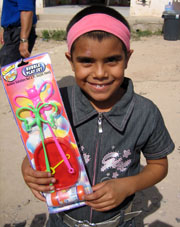 The excited children picked their gift from tables set up by age and gender. The organized preparation is just one example of FAD's structured approach to helping these families at the lowest rung of the social and economic ladder. Cleanliness, attending school, working ot earn points that are used in the FAD clothing store, working in the emergency Food Bank -- all are part of FAD teaching self sufficiency, responsibility and the value of education.
Thank you, VYC Members and Friends! The gifts cost a few dollars, but the smiles were priceless!