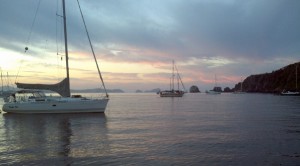 Greetings from La Manzanilla! The VYC La Manzanilla Cruise Out participants woke to a beautiful sunrise in Tenacatita anchorage this morning. Member boats Bolero, Bright Star, Lyon Around and Yemaya arrived on Thursday with great winds at their backs. They met up with VYC member boat Di's Dream, who was already enjoying the beautiful bay. Di's Dream was joined Thursday by Jay and Laurie Ailworth, who drove down. We are also expecting Sunseeker and Blue to arrive during the day today.
Today's activities include Yemaya making a lunch run to Barra De Navidad, with any participants who want to ride along and enjoy the great little town. In the evening, there will be a party in La Manzanilla.
Some of the cruisers will be joining the fun race in the bay on Saturday, and we are expecting a few boats already in Tenacatita and Barra to join us as well.
Everyone is having a great time!