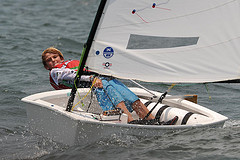 In its relatively short tenure, the VYC Jr Program has helped mold sailing stars. The Mexico Jr Olimpiadas were held May 13-15, hosted by Marina La Cruz, and 12 VYC Jr Sailors qualified to participate in Optimist, Laser and Windsurfing events. The kids braved up to 18 knots of wind with short and fast waves .. capsizes, rescues, frantic bailing of the tiny boats were prevalent day 1. But these Jr Sailors have heart, spirit, and a determination that couldn't be stopped. Fueled by healthy food prepared and donated by Leah Danielson of PVSailing, our kids were ready for anything!
To qualify to sail in this national event with 15 states across Mexico participating is an achievement in itself. But in addition, 3 VYC kids took home 7 medals! Emilia Boga de Teresa scored a daily Silver and Bronze, with overall Bronze in Opti's, Daniela Sainz Mela a daily Silver in Opti's. In Techno Windsuring, Juan (Juanito) Varela Barba claimed Silver and Bronze during the daily awards and finished Silver overall. Juanito will be putting his windsurf board aside to compete in the Opti's class in the World Championships in the Dominican Republic in July. Jr Program alumni now sailing lasers include Manuel Dussalt Gomez, who won 3 daily Bronze with overall Bronze in Laser Standard, and Paul Alejandro Moreno McCarthy with 3 Bronze in daily awards. Check out photos!

Tall and short, seasoned and brand new, VYC Jr Sailors 8-15 years old sailed their hearts out in wind and chop, and we're proud of every single one of them. We also applaud Victoria, Jennifer, Martina, Adrian, Carlos, Isaac and Cristopher, you were terrific - Great job, all of you!