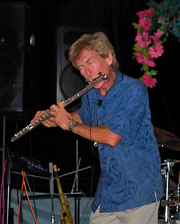 The 3
rd
of four Jazz Dinner Concerts was held on January 16
th
, with the incredible smooth jazz music of the "Banderas Bay Jazz All Stars". The yacht club was filled with many new faces, and it seems the VYC is fast becoming known as
the
place for good food and great music.
And don't forget the dancing!
These internationally known musicians include sax and flute player Bryan Savage, keyboardist Chas Eller, bass player Tom Lilienthal and the Cuban beat of drummer Lazaro Poey. Each has a long list of accomplishments, so don't just read about them ... come hear them play! We can all enjoy one last concert – February 14th. What better way to celebrate Valentine's Day, with an great concert, an extra special dinner and the Sweetheart's Ball!