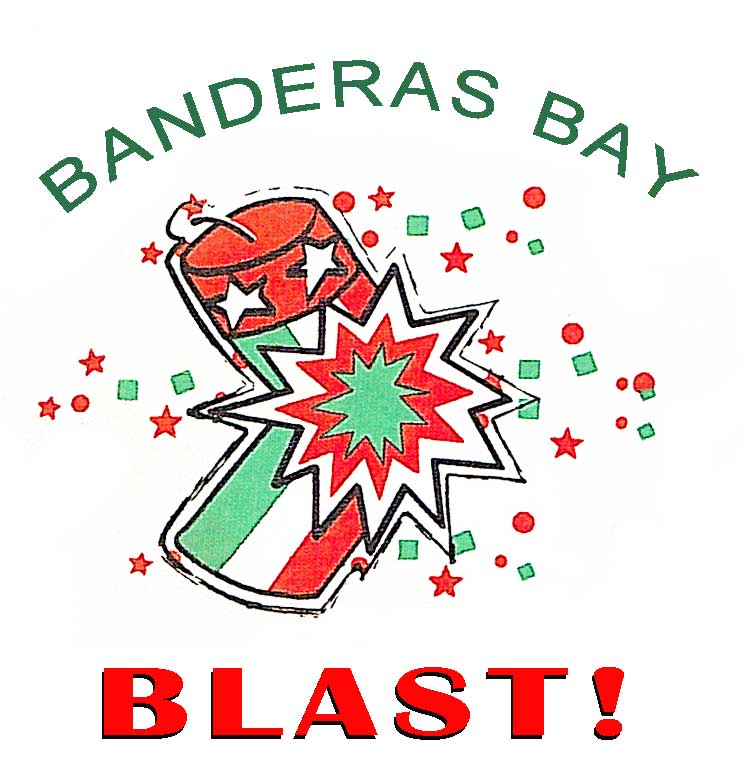 The action-packed Banderas Bay Blast, is three days of 'nothing serious' sailing fun as well as sailor socializing on land. The fun is set for three days: the Banderas Bay Blast
December 12-13 and
the Pirates for Pupils Spinnaker Run on
December 14
. This event, now in it's 10th year, is sponsored by Latitude 38, Marina La Cruz, PV Sailing, Punta de Mita Yacht & Surf Club and Vallarta Yacht Club.
The event will start at La Cruz Marina around noon on December 12 for a sail around the bay, then back to La Cruz for a pool side BBQ and games. We understand that water balloons will be involved! On day two we h
ead to Punta de Mita and anchor out, then head to shore for a beach party and the usual opening of the
Punta de Mita Yacht & Surf Club. Watch out for the paddle! Day three we
dress like pirates and sail downwind to
VYC in the Pirates for Pupils Spinnaker Run for charity, and party the night away!
Ready to sign up?
Click here
(and don't forget to tell us your pirate name!)
Click READ MORE below for NOTICE OF RACE and event schedule.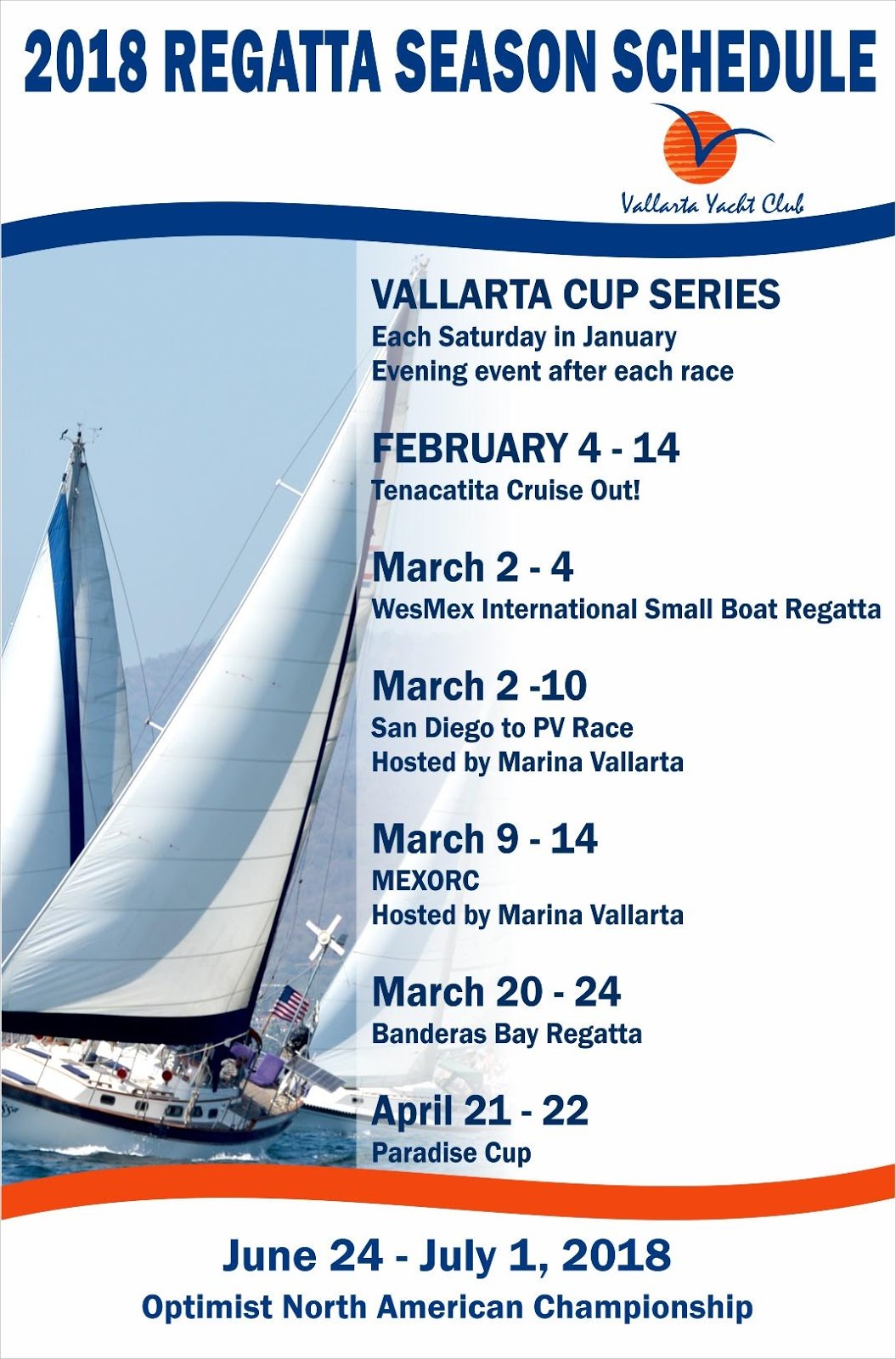 This upcoming sailing season is going to be a very busy time around Banderas Bay 2018. To make things a bit easier to follow we have put everything in one place for you. Many of you have experienced this hectic sailing calendar in the past, but for those not familiar with it, here are a few things you might want to know.
Every January, Vallarta Yacht Club kicks of the regatta season with the Vallarta Cup Series. Racing happens every Saturday, followed by racers gathering at the club with the best burgers and live music. It's a perfect opportunity to share stories of the day, who broke what, and what the strategy will be next week.
The Cruise out to Tenacita is something we haven't done for a few years, but we hope to bring it back in 2018. The plan is to head down to Tenacita and enjoy a few days away from the crowds in the marinas. There is always a lot to do in the beautiful bay and just that much more fun in the company of like-minded cruisers. Of course, there is always an opportunity catch a few fish along the way. Maybe an informal regatta will break out. Who knows? But there is definitely fun to be had.
The WesMex International Small Boat Regatta will begin March 1-4. This event will include Optimists, Lasers, C420's Windsurfers and Hobie 16's. Many classes have chosen WesMex to be a qualifier for various championships, including the 2018 Optimist North American Championship, the 2018 Laser Youth Worlds and the Hobie 16 Central American Games
With that, we are expecting over 300 competitors, making this potentially the largest WesMex every held.
The San Diego to Puerto Vallarta Race will begin on March 2 and finish at Marina Vallarta. They will then be joined by the MEXORC fleet for races throughout the pay. These two ocean going events will surely attract a lot of spectators around the bay.
Banderas Bay Regatta, in its 26th year is shaping up to be a huge event. The organizers are expecting to have many of the San Diego an MEXORC boats compete in BBR XXVI. There should be plenty of opportunities for those with racing experience, but no boat and opportunity to crew. Of course, BBR will include its signature 4 nights of parties and 3 days of racing followed by the signature beach party.
And last, but not least, from June 24 – July 1, the Vallarta Yacht Club will be host to the 2018 Optimist North American Championship where we will see 180 young competitors ages 12 – 15 from 22 countries. Hosting these international championships for young competitors is always a rewarding experience. There are plenty of opportunities to get involved in the event. More information will be coming soon. But know that volunteers are a must to guarantee the success of this event!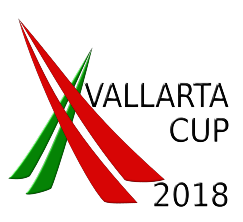 VYC kicks off the racing season with the Vallarta Cup. This series, which has been held every year since 2005, runs four Saturdays in January. Each day of racing is capped with a great party at Vallarta Yacht Club! This year we'll skip the first Saturday and kick the first race off on January 6, finishing four races on January 27.
Please use the form below to enter your boat for Vallarta Cup 2018. You can pay your fees using Paypal, or choose "Offline Payment" to pay in person at Vallarta Yacht Club. If you have sailed with VYC in the last 3 years we probably have the information we need to handicap your boat. If you have changed something or need a first-time handicap please complete the handicap request form here.
Vallarta Cup is the traditional kickoff of the racing season in Banderas Bay. It is held 4 Saturdays in January, with a single race during the day and an evening party at the Vallarta Yacht Club clubhouse the evening of each race day. Everyone is welcome, from cruisers to performance boats. All boats will be rated using the VYC Handicapping System.
When: Saturdays, Jan. 6, 13, 20, 27th
Why: Fun on the water, meet new & old friends, after the race Please come to the Club for results, beer, burgers and live music
How: Registration Form & Race Instructions available at www.vallartayachtclub.org. Registration forms and entry fees can be dropped off at VYC in Nuevo.
Entry fees: 800 pesos (or 200 pesos per race)
Sailors need to register 2 days ahead for local rating.
Listen to morning Cruiser Net VHF Ch. 22 8:30 for further information.
Starts: There will be a start for each class or staggered start times may be used, were each boat will have a start time based on their BBR handicap. Start times will be announce at the Roll Call 30 minutes before the first start. First Class or boat starts at 12:35 pm
Classes: Cruising, Performance Cruising and Multi-hull Classes
Courses: Start/finish line in front of Marina entrance. They will be distance races of 10 to 20 miles. To be selected based on the wind.
Contacts: Race Chairperson: Andy Barrow (This email address is being protected from spambots. You need JavaScript enabled to view it.)
Handicapping: Banderas Bay Handicap Committee
Sponsors: Paradise Village Marina, Marina Riveria Nayarit and Vallarta Yacht Club
The Cruiser/Race Class will appeal to owners of cruising-oriented boats that are not competitive for current PHRF racing, but whose owners and crews would like to test their skills with other similar, displacement-oriented boats.
Rule 52 against power winches is waved.
WARNING: This is a great time to test your boat and crew before sailing South or South Pacific
Event Properties
Event Date
06-Jan-2018
Event End Date
27-Jan-2018
Registration Start Date
01-Sep-2017
Registered
1

[View List]

Cut off date
27-Jan-2018
Location
Vallarta Yacht Club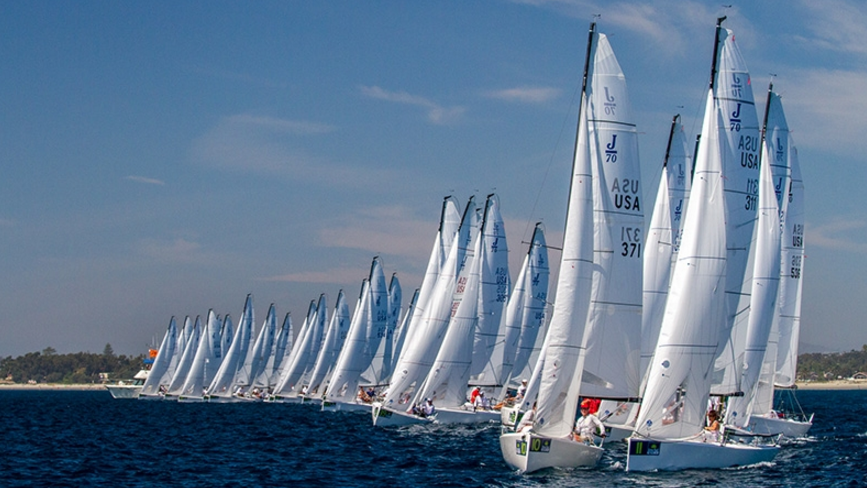 The Mexican national J70 championship will be held in Banderas Bay May 5-7, 2017.
Event Schedule
Description
Date / Time
Comments
Boat Lauch
May 3-4
Boat lauching from the VYC crane will be done according to schedule. Please contact

This email address is being protected from spambots. You need JavaScript enabled to view it.

to arrange for a launching time
Registration
May 5 09:30-11:30
Registration in the VYC Clubhouse
Race Day 1
May 5 13:00
Race Day 2
May 6 13:00
Race Day 3
May 7 13:00
Trophy Presentation
May 7 18:30
Boat retreival
May 8-9
Retrieval with the VYC crane will be done according to schedule. Please contact

This email address is being protected from spambots. You need JavaScript enabled to view it.

to arrange a time
Please continue to check this page for additional information. If you would like to arrange accommodation at Paradise Village Resort, please contact This email address is being protected from spambots. You need JavaScript enabled to view it.
Recent circumnavigators Peter and Margie Benzinger were two of the many volunteers who helped at this year's record-breaking WesMex International Small Boat Regatta. In their case, they offered their time, and thier boat, as one of the two committee boats for the event. Here's their story:
WesMex 2017 – A Visitor's Perspective
By Peter Benziger, Captain, S/V Peregrina
Racing sailboats is a fantastic way for young people to gain valuable life skills. As a boy growing up on Long Island Sound, 60 years ago, I learned to sail racing "Bluejays" and "Lightnings" at the Noroton Yacht Club in Connecticut.
So, it was only natural that my wife, Margie, and I jumped at the opportunity to volunteer Peregrina, our Tayana 47, as a committee boat in the 2017 WesMex Small Boat Regatta earlier this month. The event was organized by the Vallarta Yacht Club. This is the 12th year the club has hosted the event.
Over 240 boats participated – competing in five types of one-design sailboats: Optimists, Lasers,420's, Hobie Cats and Windsurfers.
During the event, we met some fantastic kids and their supportive families and coaches. I was really impressed by the participants and began to think about some of the benefits of racing sailboats for young people.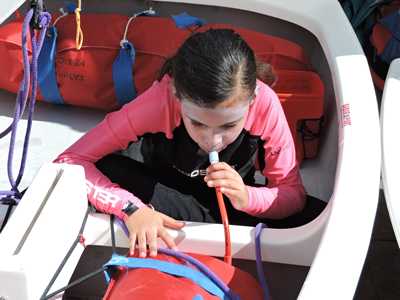 PREPARATION
Getting ready to race requires lots of responsibility and preparation. Every morning, the kids would be working on their boats; cleaning, checking the knots, adjusting tension, repairing damage.
Kids also learn the importance of safety. This young girl is putting some extra air in the flotation bladders which keep her boat afloat in the event she capsizes.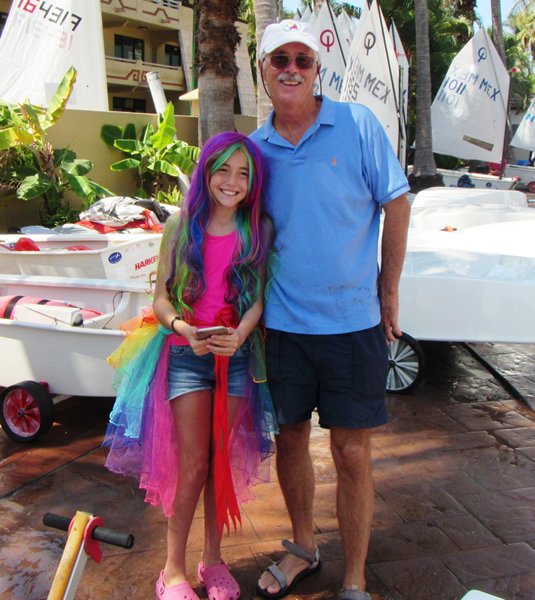 SOCIAL SKILLS
The kids in the WesMex regatta came from all over Mexico. It was wonderful to see them introducing themselves and making new friends. In a three day regatta, there is no time to be a wallflower. Even in the midst of serious racing, the kids had a sense of fun!
RULES AND STRATEGY
Once you know the Racing Rules, they will help you formulate a strategy. Strategy is probably the most important aspect of winning races. Sailing fast is just not enough. Variables such as wind, current, waves and tides must be factored into your game plan. Kids have to take all these items into consideration; implement a strategy and then, constantly, modify their tactics as the variables change.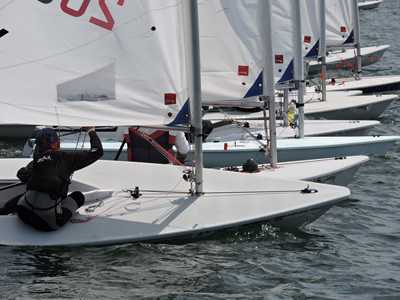 STARTS
One of the most challenging parts of the race is the Start. Timing is everything. Racers must quickly evaluate a number of conditions affecting their position and implement a series of tactical moves to place themselves in front of the fleet.
The kids have to watch out not to "foul" another boat, not to cross the line too early, to show restraint when needed and to anticipate how long it will take to arrive moving fast when the staring horn sounds. There is a lot of stress on the starting line and the kids must learn to manage it. Below, you see how close the Laser Class lines up at the start of their race.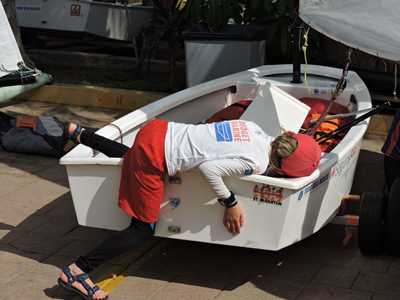 ENDURANCE
We tried to get in three races each day whenever possible. Thus, the kids were in the boats 5-6 hours a day and WOW did they get tired! Below is a young competitor who finished getting his boat into the parking lot just in time before falling asleep on the stern.
WINNING & LOSING
The hardest part of sailing is learning how to win and, much more frequently, how to lose. Usually, there are only trophies for 1st, 2nd and 3rd place so the vast majority of participants go home with only the knowledge that they did better, or worse, than hoped for. But, for the winners, there were smiles and cheers all around!
And, for a select few, this regatta had international implications. At the end of the awards ceremony, a Race Committee delegate came up to the stage and called the names of five boys and girls who had qualified to participate in the 2017 Optimist World Championships in Thailand!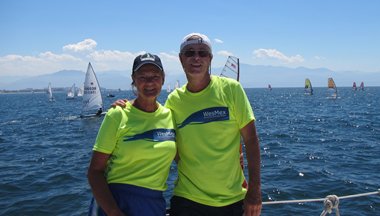 What an awesome future is in store for these incredible young sailors! What a fabulous experience for two "old salts" like ourselves to be a part of it all! Thanks to Vallarta Yacht Club and WesMex 2017 from Margie and Peter aboard S/V Peregrina.
--------------------------------------------------------------------------------------------------
We are grateful to Peter, Margie and all our volunteers for making WesMex the leading regatta in Mexico year after year.