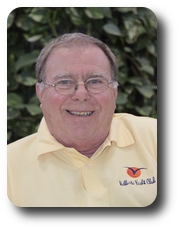 ¡Feliz Año Nuevo a todos! If you were among the fortunate 100 members attending the VYC New Year's Evening dinner party, you know we all shared a fantastic time to welcome the New Year. Cocktails began at 8:00 pm and the live band started promptly at 8:15. Within 30 seconds, the dance floor filled with enthusiastic revelers. And, stayed full until 9:00 when the band laid their instruments aside and the Club's wait staff quickly brought out two of the three course dinner. After a splendid "surf and turf "bit of nourishment, the band returned, chairs were emptied and the dance floor once again erupted; and stayed so right up to the final countdown to midnight. I also observed that the number of members having Thanksgiving and Christmas Eve dinner was twice that of previous year!
As I noted in last October's Commodore's Corner, our Club being recognized by the Mexican government as a "Sports Association" entitles us to various tax breaks. One of which is the exemption from any income tax. Obviously, this is rather meaningless to VYC on an annual basis, but, because Mexico tax law requires full tax reporting on a monthly basis which would seriously negatively effect our cash flow during the high season.
The other significant tax benefit is the exemption for IVA taxation on Dues and Donations. Although we are not a designated "Donatario" that can offer a personal tax deduction, we now do exempt our members from IVA tax on dues and donation payments, I am sure you remember that from January 1st of 2016 a 16% tax was applied to all dues and donations (as well as all purchases for goods and services). And, we were required to file these "end user" funds with our tax returns. Beginning in August we acted upon legal and accounting advise that we were no longer subject to IVA taxation on dues and donations. However, we decided to continue applying the 16% IVA as a precaution that the SAT (Mexican IRS) might disagree with our exemption. At the end of January, 2017 we will have had six months of tax filings without any comment from the SAT. Much more on this and other subject matter will be presented at this year's Annual General Meeting.
I would be remiss if I didn't warn you to be prepared to have loads of fun both Ashore and on the water during the remainder of the high season. Catch it all on the Club's website. And, make sure you are receiving the Vallarta Yacht Club Bay Calendar every week reminding us of what is ahead for the next two weeks.
Dan Green
Commodore
"Read More" para espaniol
ESQUINA DE COMMODORE
Enero 2017
¡Feliz Año Nuevo para todos! Si estuvieras entre los 100 miembros afortunados que asistieron a la fiesta de Nochevieja de VYC, sabes que todos compartimos un momento fantástico para dar la bienvenida al Año Nuevo. Los cócteles comenzaron a las 8:00 pm y la banda comenzó a las 8:15. En 30 segundos, la pista de baile estaba llena de juerguistas entusiastas. Y, se quedó lleno hasta las 9:00 cuando la banda puso sus instrumentos a un lado y los camareros Club rápidamente sacó dos de la cena de tres platos. Después de un espléndido poco "surf and turf" de comida, la banda regresó, las sillas fueron vaciadas y la pista de baile de nuevo estalló; Y se quedó así hasta la última cuenta atrás hasta la medianoche. También me di cuenta de que el número de miembros que tienen el Thanksgiving Day y cena de Christmas Eve fue el doble que el año anterior!
Como noté en Commodore's Corner el pasado mes de octubre, nuestro Club reconocido por el gobierno mexicano como una "Asociación Deportiva" nos da derecho a varios incentivos fiscales. Uno de los cuales es la exención de cualquier impuesto sobre la renta. Por supuesto, esto es inútil para VYC sobre una base anual, pero, debido a que la ley tributaria de México requiere un reporte mensual de impuestos que afectaría seriamente nuestro flujo de efectivo durante la temporada alta.
El otro beneficio fiscal importante es la exención del impuesto al IVA sobre las deudas y las donaciones. A pesar de que no somos un "Donatario" designado que puede ofrecer una deducción de impuestos personal, ahora eximimos a nuestros miembros del impuesto sobre los honorarios y los pagos de la donación, estoy seguro que usted recuerda que a partir del 1 de enero de 2016 16% Así como todas las compras de bienes y servicios). Y, se nos requirió presentar estos fondos de "usuario final" con nuestras declaraciones de impuestos. A partir de agosto actuamos en asesoría legal y contable de que ya no estábamos sujetos al IVA sobre las cuotas y las donaciones. Sin embargo, decidimos seguir aplicando el 16% de IVA como precaución para que el SAT (Instituto Mexicano del IRS) no esté de acuerdo con nuestra exención. A finales de enero de 2017 tendremos seis meses de declaraciones de impuestos sin ningún comentario de la SAT. Mucho más sobre este y otros temas serán presentados en la Asamblea General Anual de este año.
Yo sería negligente si no te advierto que estar preparado para tener un montón de diversión tanto en tierra y en el agua para el resto de la temporada alta. Capture todo en la página web del Club. Y, asegúrese de que usted está recibiendo el Vallarta Yacht Club Bay Calendario cada semana que nos recuerda de lo que está por venir para las próximas dos semanas.
Dan Green
Comodoro