Details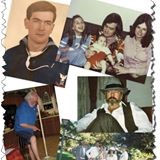 We are, again, saddened to announce that another long time VYC member, Tom Mortensen, VYC's first Treasurer, crossed the bar Wednesday, July 6. He died peacefully after three months of medical treatment, which included transfers between a number of hospitals and specialists care. He was born on November 14, 1945, in Ridgefield, Washington, to Jack Mortensen and Jean (Thomas) Mortensen.
Tom is survived by his wife, Victoria (Vicki), son, Chad Thomas Mortensen and daughter, Kimberlee M. Leber. He graduated from Ridgefield High School and joined the U S Navy during the Vietnam War. He captained two PT "swift boats" through a number of intense battles during which he was awarded the Silver Star (the nation's third-highest combat medal) as well as the Navy Commendation Medal and a Purple Heart.
Returning from Vietnam, he pursued a career in the financial market in San Francisco, California, where he climbed the ranks and eventually worked for Rosenberg Capital Management as an Investment Counselor. Promoted to a Senior Partner in 1981, he contributed greatly to the heightened success of the firm until retiring in 1995, after 20 years of service.
Upon retirement, he passionately enjoyed the ocean, and he and Vicki chartered sailboats in Tonga, Fiji, and Australia. Together, they sailed their own 42' Valiant from the San Francisco Bay Area to Zihuatanejo, Mexico before settling in Paradise Village for nearly ten years. While in Paradise Marina, Tom joined with Jim Ketler, and four others in establishing the reality of the Vallarta Yacht Club.
Returning to the states and moving with his wife and son to Cedar Park, Texas, Tom became extremely active in his community for almost nine years.
The family would like to express their appreciation for all the tender loving concern and support he received from friends and neighbors when his health started to diminish.
In lieu of flowers, contributions may be made in memory of Tom Mortensen to Mental Illness Organizations, the American Heart Association, or plant a tree in his memory.